Safe and sound.
We ensure every parent's most important concern is our first priority and that their child is always properly cared for, being both safe and happy. It is important for students to feel secure and confident in order to explore and grow – not just as individuals but also as members of our community. Most importantly, this atmosphere gives each student a great sense of belonging and pride in our school.
We stick together. 
Our students receive personal attention from our extensive 'pastoral web', which focuses on every student's physical and psychological well-being. In order to empower every student to be the best version of themselves they can possibly be, our interconnected web of tutors, mentors, nurses and teachers are always on hand and ready to step in.
Welcome home.
In the safe setting of our charming village, dedicated pastoral and boarding teams ensure that every student is set appropriate boundaries but also the freedom to grow and explore. In this way, we offer the ideal conditions for personal development by creating welcoming, caring and structured environments to ensure our students always feel at home. We welcome students from around the globe and celebrate cultural diversity with a truly balanced international student body. 
(I) learn to cooperate and compromise with people from diverse backgrounds
(II) develop independence, resilience and self-discipline
(III) grow as conscientious and compassionate individuals, with a sense of responsibility both to those close to them and to the global community
(IV) care for themselves and their fellow man and the planet, on their own path to excellence.
As a co-educational, international school for boarding and day students, St. Gilgen International School offers a strong foundation for personal development in a safe, caring and structured environment. 
The pastoral web.
Our pastoral web is the strong interconnected network of our mentor tutors, houseparents and house tutors, nurses and other staff – all in very close cooperation with parents. We also have a supportive peer mentoring system, which encourages positive peer-to-peer relationships. Our programmes and routines are designed to develop confidence, encourage inclusiveness, promote respect and foster responsibility. 
Flourishing together.
Through our Movement and Wellbeing programme, mentor tutor sessions and our assembly programme, we explore a variety of age-appropriate topics with strong links to local and global communities. We use principles of positive psychology to build mental resources and resilience, developing the emotional intelligence of our students and enabling them to flourish. 
A word from the wise.
A comment from the Council of International Schools (CIS) about StGIS
: "The commitment of school leadership, faculty and staff to students is an outstanding strength of the school – as is the excellent residential programme, dedication to care, the International Baccalaureate Diploma Programme, and the outdoor education and activities." 
The expert eye.
At St. Gilgen International School your child will be supported by a teacher dedicated to supporting the needs of a small group of students. We call these staff members 'mentor tutors' and their primary job is to become experts in the subject of their mentees.
Stronger together.
These 'mentor tutors' support, guide and encourage students at every step of their educational journey. Mentor Tutor groups are small and have no more than 7-8 students to ensure personal attention and retain the intimacy and support of a group. The groups meet every day to ensure regular contact. The mentor tutor is a primary contact point for teachers and parents in relation to the needs and development of their tutees. Under the guidance of the Houseparents, the mentor tutors coordinate all support and extension activities.
Healthy body, healthy mind.
We take a proactive and positive approach to promoting healthy physical, social & emotional wellbeing and encourage our students to take care of themselves in each of these areas of life.
Enjoy peace of mind.
We offer a wellbeing class for students from Grade 4-10. These lessons use positive psychology to help students become aware of their strengths, support positive decision-making and maximise their health and happiness.
In order to ensure a healthy school community, our school nurses offer professional care of the highest quality in a supportive and confidential environment. 
With a support system designed to protect and improve student health, our nurses provide information and guidance that ensures the physical, social and mental wellbeing of every student. The StGIS Nurses' Office is run by two registered nurses, Birgit Aspöck (Senior School Nurse) and Tanja Hofer – who are available from Monday to Friday during school hours.
Nurturing healthy, happy students.
Forming a key link between health care and education, our school nurses are always ready to help every student develop to their fullest potential. Students may see a nurse at any time during the school day for emergency treatment or for any issues that require immediate attention. In less urgent cases, students may see the nurses during breaks or by booking an appointment.
The Nurse's primary duties are:
to administer First Aid
to monitor symptoms of illness
to care for sick students
to administer medication
to accompany students to the school doctor
to administer emergency care for students with allergies, asthma, or other chronic conditions
to answer questions and advise students about physical and mental health, nutrition, puberty and other general health matters
to offer a sympathetic ear and listen to students when they simply need an adult to talk to
The nurses organize additional medical services including:
Doctor's appointments as needed
Vaccinations
Appointments with various therapists (eg: physiotherapists, speech therapists)
Health checks
First Aid Courses
We have well-established links with a psychotherapist and clinical psychologist who visit our Medical Centre twice a month. Appointments may be booked via a school nurse. The school nurses work together with the Boarding House Teams and the Student Support Team.
Partnership with the Rudolfinerhaus Private Hospital in Vienna
St Gilgen International School now has a preferred medical partner in Vienna; the RUDOLFINERHAUS private hospital.
Patients have access to highly qualified specialists from all fields of medicine and the hospital is at the vanguard of modern diagnostic techniques and treatments. All this, in conjunction with the very best of care, personal attention and a recuperative environment transforms the hospital into a centre for health and wellbeing.
Benefits for StGIS students
Appointments without prior arrangement for GP examinations
Swift access to appointments with our specialist doctors
No prepayment required prior to your appointment
Appointments available in a variety of languages for all areas of medicine
Interpreters available (at an additional cost) if desired (please request upon registration)
Please ensure you bring proof that you are a student of StGIS with you to your appointment!
We are happy to answer any questions you might have relating to treatments or payments via health insurance schemes. Please simply contact us directly at the RUDOLFINERHAUS private hospital.
T + 43 (0)1 360 36-0
info@rudolfinerhaus.at
Parents should make their own transport arrangements between St Gilgen and Vienna, and oversee duty of care once there. 
Bon Appétit.
Students eat lunch in dining rooms in the nearby local village restaurants. Meals are important for bringing students together to discuss the events of the day in a relaxed and friendly environment. Food is both nutritious and seasonal, and ingredients are locally sourced where possible. Breakfast and evening meals are enjoyed in residence for the boarders. Healthy lunches are provided by the best restaurants in the village. All students must attend school meals. 
Cooking up a storm.
Students enjoy a range of menu options in our unique catering environment from excellent local restaurants. We serve Austrian cuisine as well as international dishes, and all our meals are made from fresh ingredients. Salads, vegetables and fruit are freely available, and vegetarian and any other special diets can be catered for.
Keeping an eye out.
Whilst ensuring top quality care at St. Gilgen International School is the responsibility of every member of staff, specific responsibility is designated to the Head of Student Life, the House Parents and the Mentor Tutors. Tutors get to know their tutees intimately – monitoring their academic, extra-curricular, social, emotional and physical development. 
Set your targets. 
All students meet their tutors daily. Mentor Tutors are also accessible every week in the boarding houses. Tutor groups include students from a range of grades. Advice, support and guidance is provided as necessary. Important topics like physical and mental health are also covered in these sessions. Most importantly, students and their Tutors set regular targets, ensuring that students make the most of the many opportunities provided at the school. 
Stay up-to-date.
The Mentor Tutor should be the first point of contact for any questions or concerns regarding a student's progress. However, our staff welcomes contact with parents by email or telephone – we understand that sometimes parents can also feel disconnected, so we're always available for updates.
Discover unique stories from St. Gilgen International School
Discover your passions & talents.
Not all education takes place in the classroom – at StGIS we offer an outstanding Activities programme which takes place on weekday afternoons, supplemented by an enrichment programme for boarding students (and any day students who live nearby) every Saturday. Our programme splits into four strands – Outdoor Education, Sports, Creative Arts and Service. 
Grow with the seasons.
Students in all grades select from these choices four times a year. This is done in alignment with the seasons – September, November, January and April. Activity option choices and attendance monitoring are all done through an online platform provided by CHQ, to which parents and students have access.  For our youngest students in Grades 4 and 5, activities are optional; Grades 6 to 10 pick three activities a week, Grade 11 pick two, and final year students only choose one as they focus on their exams. 
Follow a guiding light.
The Activity programme is delivered by our experienced and qualified teaching staff, in combination with external professionals when required. In our close-knit community, this gives teachers and students the chance to see each other in a different light, with reciprocal benefits in the classroom. We are proud to offer a professional development programme that keeps our staff qualified as lifeguards, mountain bike leaders, ski instructors and powerboat drivers.
Discover an outdoor paradise.
StGIS enjoys being uniquely positioned – at the foot of a mountain and on the shore of a lake. This puts us in an ideal place to offer unparalleled access to outdoor activities right from our doorstep, both in summer and winter.  We have our own International Mountain Guide who oversees the safety and delivery of the Outdoor Education programme and is supported by teaching staff who share a passion for these activities and who are also qualified trainers. All students are put through a swimming test on arrival, and can then participate in a variety of water-based activities. Under the watchful eye of the Austrian Water Rescue and our own qualified lifeguards, students can enjoy rowing, kayaking, stand-up paddle boarding, water skiing, wake boarding and sailing – everything they need is in our well-equipped boathouse.
Climb higher.
For those who prefer to keep their feet dry, we have a rock-climbing crag within walking distance and some great Klettersteigs within 15 minutes. We also have a large fleet of mountain bikes, and offer hiking and running.  We offer a mountaineering education all year round –  learning the basics and rope work during the winter months, and then applying this knowledge and skills during the summer months. Off-site, students can participate in horse riding (with some choosing to bring their own horse), archery and river surfing at Europe's biggest and newest venue.
Earn your turns.
During the winter we offer cross-country skiing, snowshoeing, ski race team training, and ski and snowboard touring up the mountain directly behind the school. We provide the opportunity for our students to attain the Austrian ski instructor qualification, which takes place over several winter weekends. In preparation for the summer season we run an indoor swimming programme to bring novice swimmers to a level where they are able to participate in our water-based activities, and to train capable senior students to a level where they earn a nationally recognised lifeguard qualification.
Level up, no matter your level.
All of our activities are instructed at all levels – students can join us as beginners and leave us as a qualified ski instructors. The culmination of the programme is "The Dare" adventure race in the summer, when we invite schools from across Europe to come and compete against us in a range of physical and mental team challenges including climbing, mountain biking, raft-building, cliff jumping and running against the clock.
Take the field.
StGIS fields competitive male and female teams at junior and senior levels in football, basketball, golf, cross-country running and ski racing. We are part of the Danube Valley Athletics Conference (DVAC), through which students have a chance to represent StGIS against other schools in the area. With multiple training and gym sessions during the week, our highly motivated sports staff work hard to keep developing the teams' physical prowess and skills. These sports teach our students about teamwork and allow them to experience the thrill of victory and the humility of defeat. As well as our own specialised staff, students also benefit from access to a former NBA basketball coach and professional trainers at the nearby Mondsee golf club.
Keep your eye on the ball. 
In addition to our core sports, students also have the chance to play volleyball, tennis, badminton, handball and squash. Along with yoga and meditation, our staff lead regular fitness sessions in our gyms. With excellent pastoral care and academic support provided by our Mentor Tutor system, we are able to accommodate students training and competing at the highest levels in sports – for example showjumping or playing ice hockey for national teams. Our outstanding natural location offers many races and competitions right to our doorstep, and we regularly participate in and provide marshalling support for local races such as the Salzburg Marathon, the Wolfgangsee Challenge triathlon and the Wings for Life world run.
The world is your canvas.
The Creative Arts programme takes place in some of our most unique spaces – our theatre is the former village cinema or "Kino", which still houses the original projector. Art takes place in a former automotive workshop, a wonderfully industrial "blank canvas" which allows students to get a little messy. The culmination of our music programme is a concert in the roof of the "Mozart House", the house where Mozart's mother's previously lived. Finally, Design takes place in the "Idea Alm," which consists of newly equipped workshops overlooking the lake to inspire creativity.
Get dramatic.
Drama rehearsals take place throughout the year and build towards to performances at the end of term. Sometimes this means joining forces with the Music Department to put on a musical. These productions are always an excellent opportunity to bring the school community together so there are roles not only for front-of-stage performers, but also musicians, set builders, costume makers and behind-the-scenes light and sound technicians. The latest production was an ambitious staging of "Shak4speare" – four of Shakespeare's famous plays in one, contrasting with the previous year's very modern meditation on artificial intelligence in "Deep Thought," and the classical "Women of Troy."
Step into the spotlight.
There are many outlets for students to showcase their musical talent. On top of their optional solo instrument lessons, students can participate in the choir, jazz ensemble, guitar club and the orchestra.  These ensemble performances combine with our talented soloists to create enthralling concerts at the end of each term. We believe that everyone should have a chance to shine, so there are many opportunities for everyone!
Get experimental.
Students also have the opportunity to experiment with different mediums in art club and design. Students can make their own clothes in fashion club and create amazing inventions using the 3D printer in the Idea Alm. Budding authors learn how to develop characters, create a plot and structure a novel in creative writing workshops.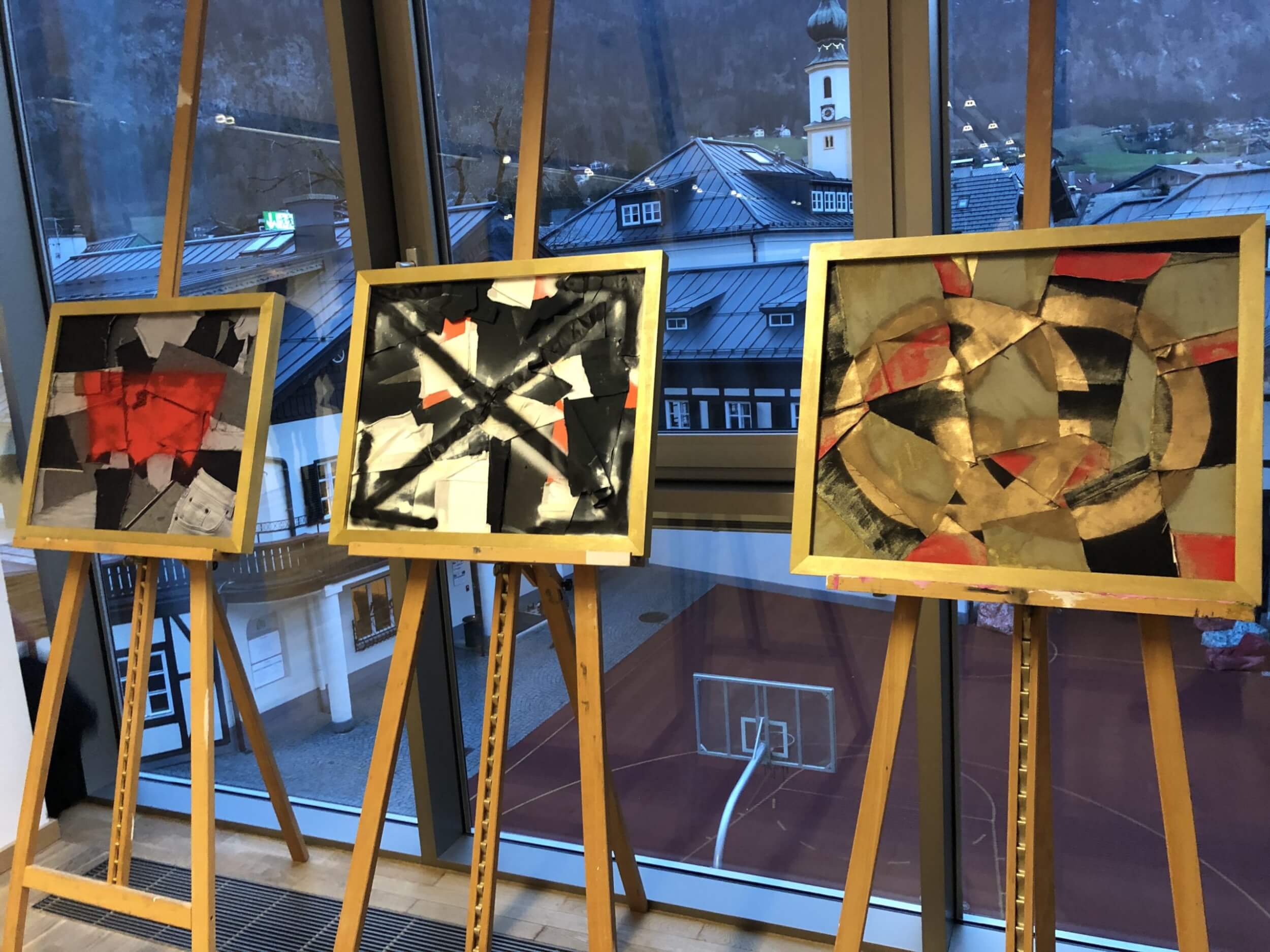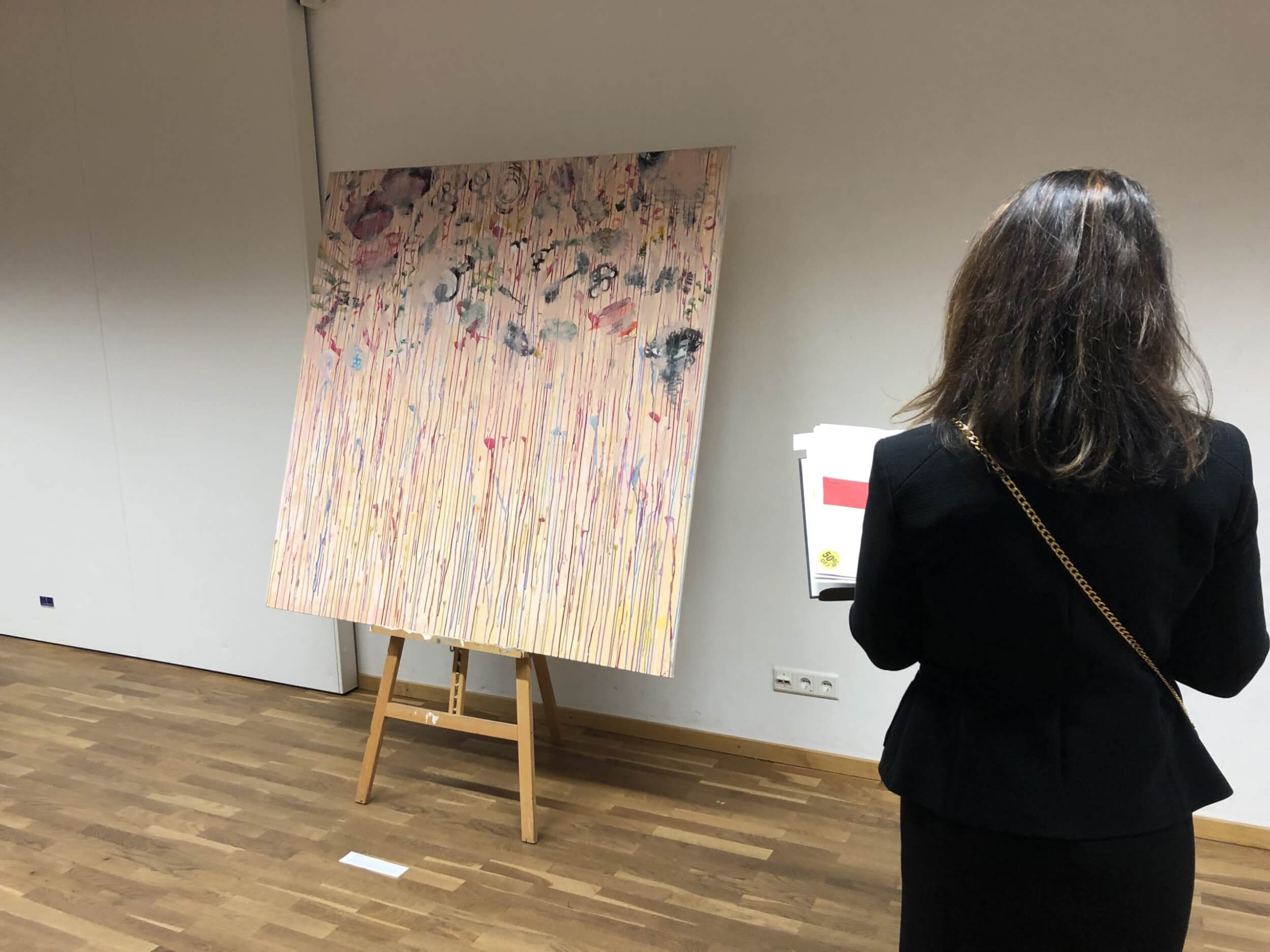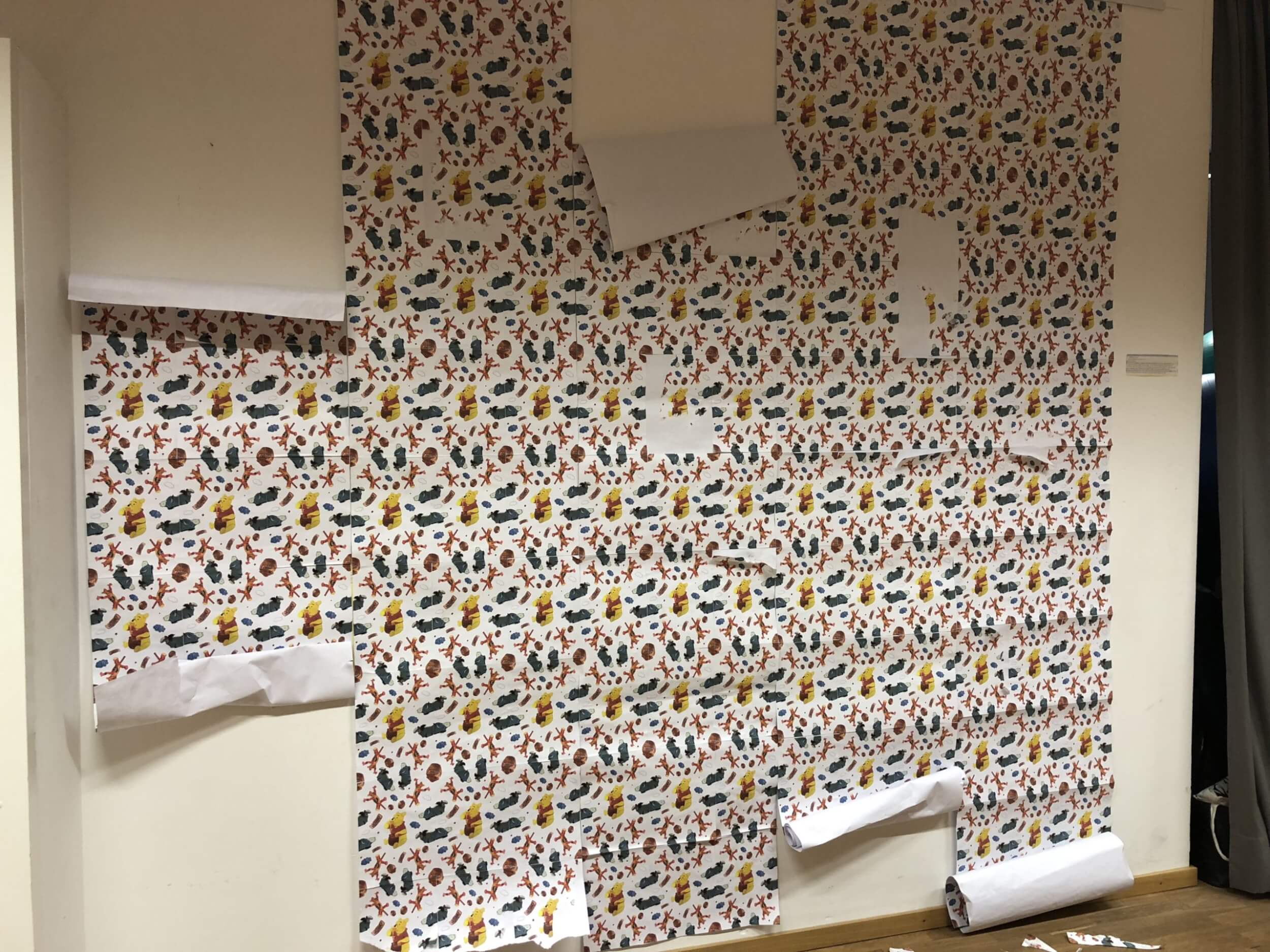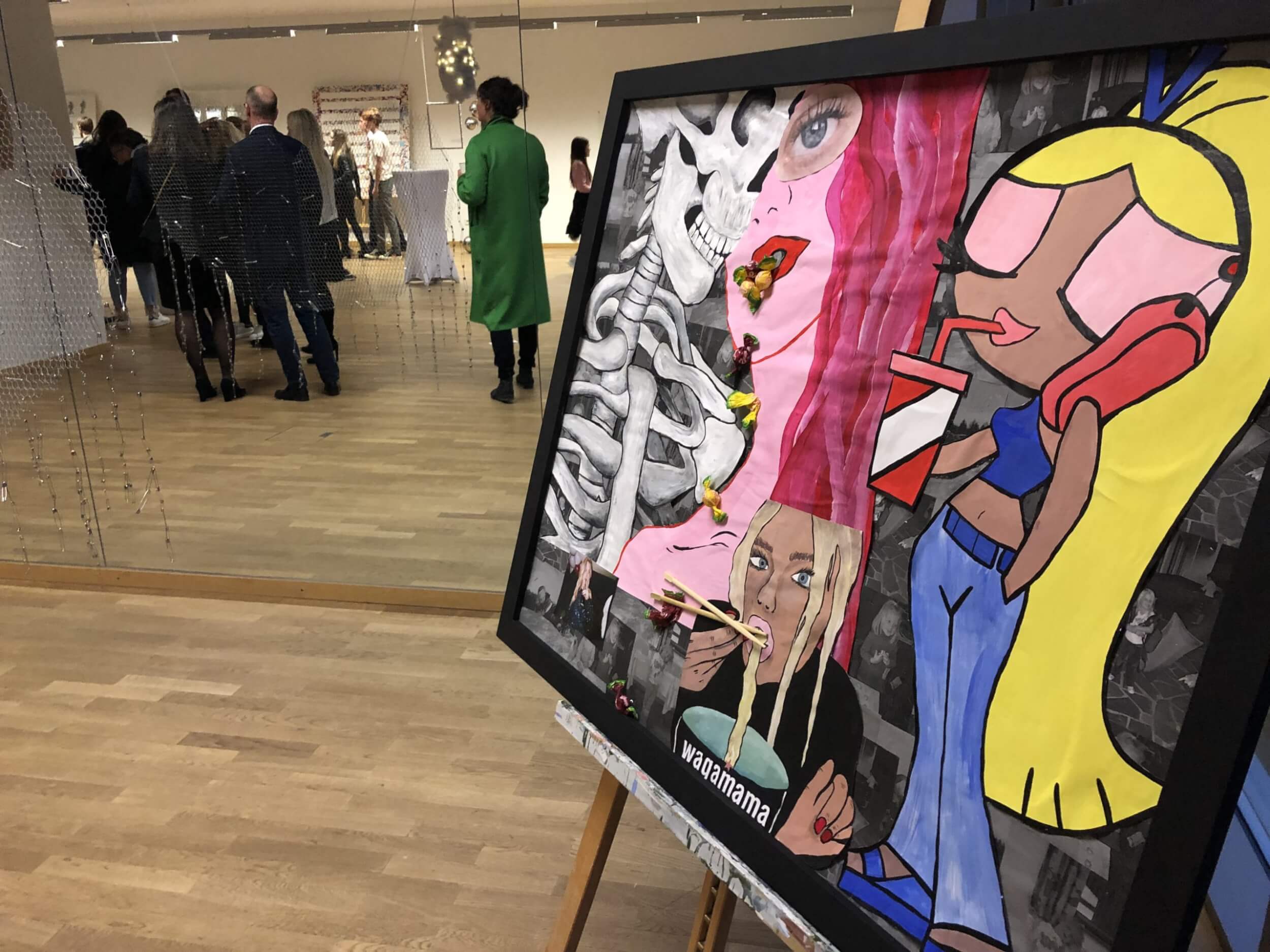 Find ways to give back.
Our students learn the importance of giving something back, to both the village community that hosts us and the world in general. Our biannual Community Day sees all staff and students helping out the village as it packs away for winter and reopens in the spring. This means cleaning the boats in the rowing club, putting away the sailing dinghies in the yacht club, clearing paths for the Alpine Association, hosting football tournaments for the village school and helping out at local businesses and organisations.
Make your difference.
Students host regular bake sales and other fundraising events to raise money for charitable causes and run letter-writing campaigns through the student-run branch of Amnesty International. A student fashion project raised significant amounts for the Open Arms Malawi charity through clothing sales, and the Molham Volunteering Team raised funds for Syrian refugees. Students help out in the village's junior school, running sports activities in the afternoons, English book clubs, and standing guard at the road crossings on dark winter mornings.  Senior students are able to qualify as lifeguards and ski instructors, and then help coach younger students. Student-led activities, such as the popular "Arabic for beginners" course are very much encouraged. 
Run for those who can't.
Every year our staff and students organise the "Wings for Life" charity run as part of the global challenge raising money for spinal-cord research. Our staff and students also volunteer to marshal the many sporting events that run in the beautiful Salzkammergut lake district during the summer months, and our senior boys host a charity football match at the local club.  Throughout the year there are regular collections of goods and donations to help the local homeless shelter and animal rescue organisations, particularly in the months leading up to Christmas as part of our Reverse Advent Calendar.
Soak up the weekend.
StGIS provides a comprehensive enrichment programme for our boarding students on weekends, with day students welcome to join in. We usually offer a choice between sporting & outdoor education or cultural opportunities. In the summer months, having a full day allows us to go for long mountain bike rides, focus on mountaineering education or go for hikes or klettersteigs. In the winter we go alpine skiing and snowboarding every Saturday. On some weekends we go for multi-day ski-tours as well. The long summer weekends give us a chance to explore our local environment on bikes, canoes and on foot – sometimes with camping trips and overnight stays in mountain huts. Sometimes we also travel further afield, for example to the outdoor delights of Lake Garda in Italy.
Game on.
The weekends are typically when our sports competitions take place, with students travelling to play against schools as far away as Bratislava and Budapest.  These physical endeavours are always balanced with a cultural programme giving students a chance to visit the many local attractions – for example the castle in Salzburg or the nearby salt mines. We believe students attending our school should leave with a good understanding of Austria's rich history and culture.
Our specialist programmes
Become your very best.
StGIS runs specialist programmes for students performing at the highest level in music and horse riding, with plans to expand this to other disciplines in the near future. We have a number of students who are specialists in a particular sport and compete at a national level For example, sailing, horse riding and ice hockey. These students benefit from our highly supportive Mentor Tutor system to ensure they keep up with their studies whilst training and competing.
Become your very best.
StGIS runs specialist programmes for students performing at the highest level in music and golf, with plans to expand this to other disciplines in the near future. We have a number of students who are specialists in a particular sport and compete at a national level For example, sailing, horse riding and ice hockey. These students benefit from our highly supportive Mentor Tutor system to ensure they keep up with their studies whilst training and competing.
Professional Golf Pathway
Tee up your golfing career.
StGIS boasts a team of pre-elite golf players who combine studying at the school with a rigourous training regime. The excellent facilities of Mondsee Golf Club are nearby and students train after school four times a week in the summer season. During the winter, they train at a nearby indoor driving range using the latest simulation and assessment facilities.
Tee up your golfing career.
StGIS boasts a team of pre-elite golf players who combine studying at the school with a rigourous training regime. The excellent facilities of Mondsee Golf Club are nearby and students train after school four times a week in the summer season. During the winter, they train at a nearby indoor driving range using the latest simulation and assessment facilities.  As well as the services of the club professional, students have a dedicated trainer at the school and receive specialist gym coaching during their sports lessons. Our students are also part of their respective county (Land) golf federations and attend further training camps during the holidays with them.
At StGIS we offer an outstanding horseback riding activity programme which takes place up to three times per week. The programme is occasionally enriched by a weekend activity or with the option of private lessons.
Weekday Activity
Horseriding is offered as part of the StGIS weekday activities program, with advanced riders given the opportunity to train for two consecutive days and encouraged to participate throughout the school year. Training includes familiarization with horses and equipment, as well as guidance from experienced coaches.
Weekend Activity
Horseriding also regularly features on our weekend activities programme. These sessions range from giving newcomers an opportunity to enjoy an experience where they can participate in an introductory taster session to the sport or a more advanced jumping training.
EWOT Academy
The EWOT Academy is  the cooperation partner of the StGIS, delivering the EWOT Academy prorgramme for our students. All arragements including stabling private horses to organising the weekly training sessions, are coordinated with and managed by the EWOT Academy directly. EWOT experts guide our students from induction to their first riding badges and tournament experiences. Students are taught on professional showjumping horses which have retired from their professional careers. These horses are extremely reliable and trusted partners.
Students can develop their dressage and showjumping skills and attend tournnaments. Exclusive training plans and an all-around support with rented or own horses are provided. In cooperation with the Stud Farm Frech, and other partners, we guarantee  constant access to elite level horses.  Rental and sale can be arranged.
Private riding lessons can be also be arranged outside of the activity programme. 
Please contact the EWOT Academy directly if you wish to enrol in the academy (info@ewot-academy.com).
Follow in Mozart's footsteps.
Globally renowned for its musical heritage, the Salzburg region is one of the world's top destinations for musical education. At the Mozarteum University in Salzburg, exceptional talents mature into world-class acts ready for the global stage. Just 30 kilometres from the city of Salzburg where Mozart was born, our lakeside town of St. Gilgen was the birthplace of Mozart's mother, Anna Maria. 
The Pre-College of the Mozarteum University 
The Mozarteum Programme at St. Gilgen International School ranges from Grade 5 up to Grade 12 and combines the virtues of the prestigious Pre-College Programme of the Mozarteum University with our excellent international secondary education.
The artistic curriculum of the Mozarteum Programme​
Get taken under the wing.
The Mozarteum University Pre-College Programme includes a thorough practical and theoretical training for one of twenty instruments, singing or composition at a very superior level. It consists of a weekly ninety-minute lessons, amounting to some 30 sessions per academic year, taught by Mozarteum University professors and teachers in one-to-one tuition. Young students also receive lessons in chamber music (from the age of 12), music theory (from the age of 15) and compulsory piano (from the age of 16, except for piano majors).
Practice makes perfect.
In addition, the curriculum allows for ample time and space during the week for individual practice. Public performance plays a key role in musical development and there are numerous opportunities to perform in public throughout the year.
Admissions Process.
In addition to the StGIS admissions process, applicants to the Pre-College Salzburg will be required to prove their musical talent by taking an additional admission test at the Mozarteum University.
As the Pre-College Salzburg is taught in German, it is also necessary to obtain a working knowledge of the German language at the level of A1 (12-14 years) respectively A2 (from 15 years). While StGIS offers an English curriculum, German as a foreign language and German for native speakers is also a strong focus.
Costs.
A course fee and the ÖH contribution are payable directly to the Mozarteum University each semester for participation in the University Pre-College Salzburg course. The course fees for the academic year 2023/24 are € 700 per semester.
The world is your classroom.
Every year we offer a range of optional curriculum-based trips for students to engage in deeper learning and see the world first-hand in all its beauty and complexity. We believe that to truly learn about the world we must experience it and learning outside the classroom is essential. We select trips that will develop local, regional and international perspectives, build cultural and environmental awareness and challenge our students "to know, to share and to question" ​their place as global citizens. 
Watch this space.
As we develop the MYP (Middle Years Programme), more interdisciplinary trips and opportunities for project-based learning and service will emerge. These trips and visits will help students build their CAS portfolio in their IBDP years. Naturally, the skills developed are critical for building a 'life-long love of learning.'
Become a global citizen.
We are driven by the maxim of 'living and learning locally – thinking globally'. We are spoilt in this regard by the diversity of the culture, history, science and geography on our Austrian doorstep. We also strive to create environmentally sustainable travel experiences as we explore our region and neighbouring countries. When we venture further afield, it is for awe-inspiring perspectives that are hard to gain anywhere else – such as witnessing and researching the Aurora Borealis in Norway, exploring complex cities such as Sarajevo and visiting powerful sites like Auschwitz.
Welcoming new voices. 
With regular visits from leading experts in their fields, we welcome guest speakers who come to talk to students about everything from human rights to marketing strategies.
Language trip to Spain
MUN trip to Oxford
Mountaineering trip at the Mont Blanc
Historical and literature trip to Sarajevo
Sustainability Summit Berlin
Theatre trip to Prague
CAS trip to Krakow and many more…
Welcome home.
The boarding team at St. Gilgen. International School takes great pride in our boarding community. We provide a high-quality boarding experience, promoting the welfare of each student within a safe, caring and happy environment.
Every family member brings something to the table.
We develop the individual character and confidence of every student. The boarding house team provides a healthy balanced lifestyle offering guidance and support, enabling boarders to reach their full potential.
Our aims are to:
Provide a home-away-from-home boarding experience that is safe, relaxing and comfortable.
Promote a spirit of teamwork and communal responsibility within each boarding house.
Ensure that each boarder can develop academically, socially, morally and culturally in an atmosphere of positivity, encouragement and trust.
Spark open and positive dialogues between boarders and their parents.
Provide a solid foundation for our boarding students to understand and embrace our School Vision and Values.
Accomodation worth writing home about.
We have three lovely boarding houses close to the main campus; the 'Bachwirt' for girls, the 'Traube' for boys and 'Kendler' for our grade 12 students. Our boarding houses were originally hotels and they have been charmingly converted to provide a high standard of en-suite accommodation in which students share a double or triple room. Our boarding houses are separated by gender and arranged vertically by ages. All houses are close to the main campus.
Wear it with pride.
In StGIS, we are proud of our distinctive and attractive uniform. We believe in the importance of high standards and the school uniform acts as a means of encouraging students to feel a sense of pride and purpose. High standards of uniform contribute to the ethos of the school and it is the responsibility of all students and members of staff to ensure that students are always correctly dressed and look smart and formal.
Join an International Community.
At StGIS, our diverse international community provides all students with an excellent opportunity to engage with other students with different cultural and language backgrounds. We welcome all students irrespective of race, religion, gender, cultural, ethnic or religious background.
You belong here.
A sense of global belonging is the result of a quality international education. The IB Programme aims to develop inquiring, knowledgeable, ethical and caring young people who will help build a better future through intercultural understanding and respect.

SAMUEL LA RONDIE
Leadership Role: Student Head of School
Grade: 12
Nationality: British
Kristina Pechovska
Leadership Role: Head of Academics
Grade: 10
Nationality: Bulgarian
Alena Chekaeva
Leadership Role: Head of Community Engagement
Grade: 10
Nationality: Russian
Evie Stirrat
Leadership Role: Head of Experiential Education
Grade: 11
Nationality: British
Stormey Walker
Leadership Role: Head of Students Life
Grade: 12
Nationality: American
Leona Berner
Leadership Role: Head of Sustainability
Grade: 11
Nationality: Austrian
Emilie Kenkel
Leadership Role: Sustainability Prefect
Grade: 11
Nationality: German
Yuriy Mud
Leadership Role: Social Event Prefect
Grade: 11
Nationality: Ukrainian
Kristina Pechovska
Leadership Role: MYP Representative
Grade: 8
Nationality: Bulgarian
Campus Buildings
Boarding Houses
Restaurants
Wirt am Gries

Steinklüftstraße 6

Gasthof zur Post

Mozartpl. 8
St. Gilgen Live Panorama Images